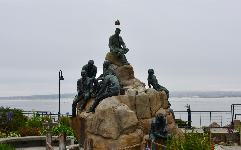 I LOVE A CHALLENGE! Here are just a few of my recent successes:
Virtual office - Developed and implemented a plan for a remote workforce that reduced facilties costs by 80%.

Visibility - Raised the local profile of an arts organization with local events for greater support from donors.
Reputation - Through media storytelling created an online presence and membership funnel for a religious organization.
Events - Employed community organizing and public relations to build capacity attendance numbers.
Grants
-
Researched, wrote and submitted grants for several progressive organizations and all were successful.

OUR FAVORITE INNOVATIVE PROJECT

S